Solange was singing "I slept it away, I sexed it away, I read it away" (Cranes In The Sky) when I was crowned "the worst break-up DJ". My friend was going through a breakup and I had dragged her out for a cheer-up drive, but killing the vibe with my bad music choices.
This drive was the original spark for my latest release This One For Me.
The two tracks, This One For Me and For You, are the third and fourth singles from my upcoming album, Thoughts Midsentence. Even though the two songs are released separately, they belong together. At the core of the two tracks lies the organ, a metaphorical backdrop to the musical journey.
When your best friends go through heartache, you ride that rollercoaster of emotion with them. So even though this wasn't my breakup, this was a breakup I was a part of. When she felt numb, we drove around. When she felt betrayed, I felt angry. When she felt sad, I felt I should feed her (yes, food is my love language).
This breakup-y has been mentioned before on this music blog, it is the lyricist to my songs Anna Marsý. One of the ways she dealt with this break-up was by doing what she does best, writing lyrics. 
In my studio, Studio Bókó in Iceland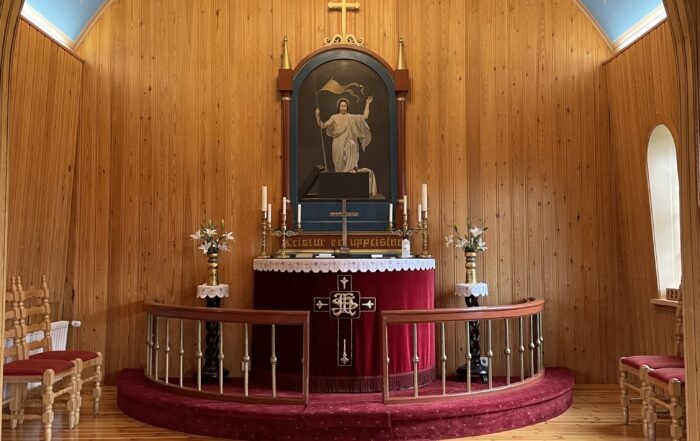 The Organ for this track was recorded in Lágafellskirkja church
50 Ways To Leave Your Lover
Anna Marsý and I share our love for 50 Ways To Leave Your Lover by Paul Simon. I have always been drawn to the drums of the track. But given the circumstances, the lyrics are what united us at this point in time. I don't think it could have been more accurate:
She said it grieves me to see you in such pain
I wish there was something I could do to make you smile again
I said I appreciate that and would you please explain
About the fifty ways to leave your lover 
The lyrics of This One For Me pay homage to this Paul Simon classic while carving out its own distinct identity, creating a bridge between the generations.
This One For Me by Anna Marsý

If there are 50 ways to leave your lover,
then why did you choose this one for me?
If there are 50 ways to leave your lover
then why can't it be you that has to leave?
There are no songs
for the girl who's told to leave.
No songs for getting
Kicked out of a life
There are no songs that tell her
How to hold her head up high
As she packs her books and underwear
The coffee cups they used to share
If there are 50 ways to leave your lover,
then why did you choose this one for me?
If there are 50 ways to leave your lover
then why can't it be you that has to leave?
No one sings
of carrying out the boxes.
No one sings
of crashing at a friend's.
There is no song for not having
a home, any more
and knowing that in her old bed
another girl's asleep instead
If there are 50 ways to leave your lover,
then why did you choose this one for me?
If there are 50 ways to leave your lover
then why can't it be you that has to leave?
It took me years to start writing the song, so long, that this breakup is now ancient history. But to write the song I went on a memory journey, revisiting all the emotions and combining them with a sting of heartbreaks I have felt in the past. 
I feel uncomfortable with vulnerability, so this song was a hard one to write. I admit there were times I wasn't sure if I could sing a breakup song, but I strongly believe that if things scare you creatively – you have to do them. When writing I tune into these raw emotions of sadness, numbness, and strength. 
When recording the voice I wanted the listeners to feel a melancholic tone, so I use more of the breast voice and vibrato than I did in the two previous tracks from the same album, Playing With Fire and Destructive Interference. I had fun with layering the voice, weaving multiple takes into the sonic landscape.
I wanted this to be an immersive sonic experience so I wrote a long intro, released as a separate track called For You. Even though the two songs are released separately, they belong together.
For You (7.7.23) will be released a week earlier than This One For Me (14.7.23), a little tease for what is about to come. 
Recording The Church Organ
Organ, The Perfect Break-Up Instrument
What instrument is more fitting in a break-up song than the organ? The instrument of weddings and funerals, to sculpt a track that is both nostalgic, empowering, and cathartic. 
I have always been an Organ admirer. My dad is a big fan of organ pieces, so I grew up wrapping Christmas presents to powerful organ classics. I am also a fan of synthesizers, and the organ is the father of synthesizers. 
Many musicians recording the organ in Iceland are drawn to the big brother of all the organs, the Hallgrímskirkja church organ. While that is a beautiful instrument, it is not really the traditional Icelandic organ. Most of our churches are small wooden churches, with smaller instruments. That is the sound I was searching for, so I chose to record at Lágafellskirkja church. 
Lágafellskirkja is right outside Reykjavik, a charming wooden church built in 1889, with great acoustics. Fun fact, that had nothing to do with why I chose to record there, my great-great grandpa used to live at Lágafell farm, so there are some positive spirits there.  
View this post on Instagram
The One That Plays It All
Þórður Sigurðsson played the organ. Þórður is not only a great organist, he is also a skilled jazz- and pop pianist. He is the type you will see on stage with a pop band on a Saturday night, suited up by the organ for your Sunday mass and then conducting a men's choir in the afternoon. 
When recording I placed a stereo pair of mics in the church and then one extra mic inside the organ itself, capturing the deep murmuring and breathing of the instrument, clicks, and crackling sounds.
It was just a test, I thought I would probably mute that recording later. But all those sounds added a human and intimate quality to the recording. Sounds that make you aware that this is a real recording of someone playing the instrument, it is not a computer-made virtual instrument.
What's Pop Without A Brit?
I finalized the song with a British Producer, PALMR. It is the first time we work together, and it won't be the last. 
In the production stage, we decided to process the organ heavily, sometimes it sounds almost synthesized, mixing familiar elements with more experimental sounds, sculpting a track that is both nostalgic while still maintaining a contemporary edge. 
Until finally, it breaks through the mass of sounds. After the storm, all that is left is a flute like organ sound. Music that makes you feel like you are floating until finally the organ is switched off and you hear how the air leaves the body of the instrument.
I just recorded four new tracks, they will be released this autumn, featuring electric guitar played by Pétur Ben, double bass by Birgir Steinn, and Kristófer Rodriguez Svönuson playing the drums. 
The next song is in Icelandic. I don't have a date yet, but I think it is safe to say that it will be released in August.
If you are searching for ways to support my music journey this would be a great time to head over to my Spotify account and press that follow button.
And while you are at it. Also, check out my Spotify playlist called Icelandic Eclectic. It features all of my favorite tracks from Iceland (and some from the Faroe Islands). A great way to discover some new music.
Did you know it takes over 25.000 streams to make 100$ on Spotify? If you feel like supporting this release, please head over to my music and art store and purchase the digital download – or just something else that you fancy.
Songwriter & Vocalist: Inki
Producers: Inki & PALMR
Lyrics: Anna Marsíbil Clausen

Organ: Þórður Sigurðsson
Mixing: Joe Rodwell
Mastering: Addi800
Released in June 2023