When hearing music production words, I hear love language. And when I talk about relationships, I tend to think in music production words. Your energies are clashing, you cancel each other out, maybe it needs a bit of compression, you gotta find that leveling sweet spot for the perfect mix.

This was the inspiration for my latest single Destructive Interference. Scheduled for a release on 5th of May 2023.
Destructive Interference, is the second single from my upcoming album, Thoughts Midsentence. All of the lyrics on my album are written by my friend Anna Marsý, a well-known journalist here in Iceland.
In my previous blog about Playing With Fire single, I describe our creative process. How she plants herself in one of the red velvet chairs in my studio and together we brainstorm a topic.
This time around I was telling her how music production words sound like some type of love language to my ears. For explanation, I created a list of words that I shared with her. I got goosebumps when she read the lyrics she wrote, it was exactly what I was hoping for. My favorite is the beginning of the second verse:
I let my levels
get lost in your gaze,
limit my voice
to your forceful embrace
But I don't think it is necessary to understand music production to be able to enjoy the lyrics. In fact, most people that have listened to Destructive Interference relate it to some type of BDSM relationship. I find that very amusing. If the song wants to grow up and get a little BDSM life on its own, who am I to judge?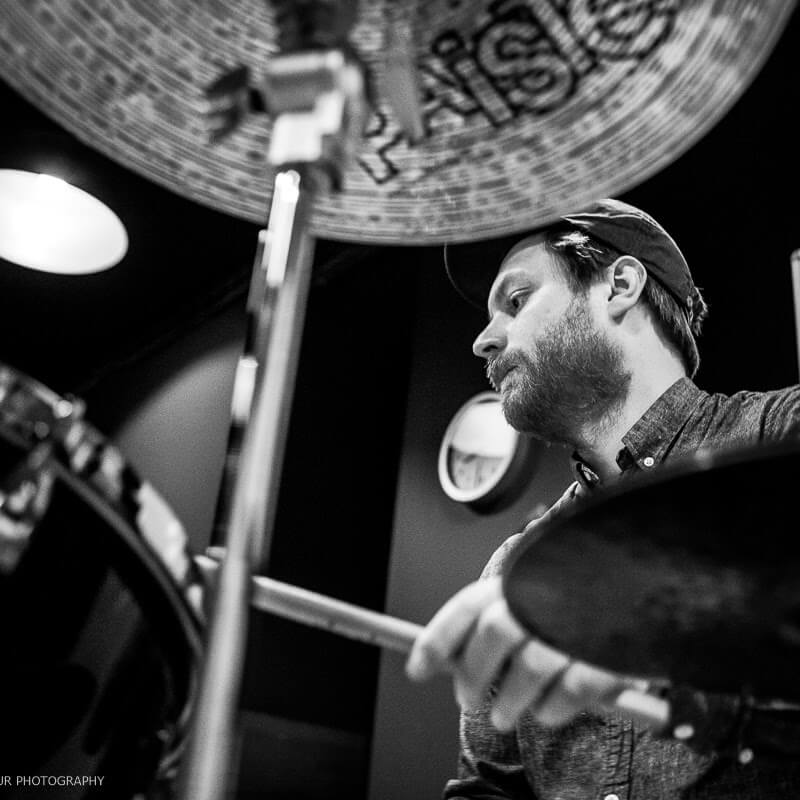 Höskuldur Eiríksson plays the drums
For the nerds reading this blog post, I will explain the physics of Destructive Interference. Jump over to the next paragraph if physics gives you a headache. So Destructive Interference in physics describes the interference of two waves that cancel each other out, resulting in loss of energy.
For example, if two loudspeakers are emitting sound waves with the same frequency and amplitude, but the waves are 180 degrees out of phase, the sound waves will cancel each other out in certain regions of the space, creating areas of quiet.
The lyrics describe two people in a relationship whose energies are clashing, leading to a breakdown in communication and harmony.
Lyrics

Catching my curves
in a curious place
canceled, inverted,
out of phase

Manipulated
choked and outdated
Identical and yet off pace

Waves won't carry through empty space

Vibrating on the same frequency
but I can't feel you
And you can't feel me
Apparent inchoherence
Destructive interference
Twisting around until one concedes
Should we both be you?
could we both be me?
Undone by your appearance
Destructive interference
I let my levels
get lost in your gaze
Limit my voice
to you forceful embrace

May my undulation
Pick up your sensation
or else we'll swing our separate ways

Waves won't carry through empty space

Once upon a time in an elf's house
I wrote the melody to this song in North Iceland. A family friend, Hallbjörn Þorbjörnsson, had been kind enough to lend me and a couple of friends his house to change environments and work for a week.
It looked like an elf's home, a little yellow house with one tiny door leading to the garden. It would have been an American elf though, cause the Icelandic ones are bigger than humans – imagine a Lord of the Rings type of elf. 
So between jumping into Icelandic hot springs and ocean swimming I wrote the melody and chords. As the foreign press loves writing how all Icelandic artists are inspired by nature and elves, I am a bit hesitant writing this. It is a cliche, but in this case also true. This melody was written between it's creator being boiled in an hot spring or frozen in the Atlantic ocean. I will include a pic to proof it. 
The melody follows the meaning of the words closely. For example, in the first verse I sing the word canceled but then turn the same melody around when I sing inverted. Identical is a one note melody but Waves is a flowy one.
Hot spring hunting in north Iceland
Music making in the kitchen in the little elf house
Destructive Interference features my voice, and electronic instruments alongside live drums played by Höskuldur Eiríksson, which I recorded in my studio, Studio Bókó, in Iceland.
I believe that good things happen to electronic music when you include acoustic instruments. It creates a contrast between the organic and synthetic elements. The recorded drums add that live element to the song, a human touch to the production.
Then I also processed and layered the voices, adding texture and depth, to the production. I even added an extra track of whispering, if you listen closely you might hear it.
 

 

 

View this post on Instagram

 

 
Social Media for inspiration
Despite the initial inspiration, I found myself struggling to finish the production of the track. I have a tendency to go into overthinking and analyzing mode, you might have picked up on that in the chapter about the melody writing.
I was searching for inspiration when I came across the work of producer Mors. I have been following him on Instagram for a while, and love his sound design and music production tutorials. So I reached out and asked if he would be interested in collaborating on the song. After a short conversation, we decided to collaborate. He added the finishing touches that the song was missing, so now it felt complete.
Addi800, a great Icelandic sound engineer, finalized  the song by sprinkling his mastering magic on the mix. I had been debating if the mastering process is really necessary. There is so much talk about the greatness of AI so I did a test. I tried two different versions. One was done with Ozone by iZotope, an AI mastering software, and the other one by Addi. Addi's version was so much better. I guess AI is still missing ears and emotions, until they grow them I will stick to human mastering.
The next track is almost ready! It will feature a church organ played by Þórður Sigurðsson and is scheduled for a release in June 2023. It will even include a separate intro track, featuring only the organ.
If you are searching ways to support my music journey this would be a great time to head over to my Spotify account and pressing that follow button.
And while you are at it. Also, check out my Spotify playlist called Icelandic Eclectic. It features all of my favorite tracks from Iceland. A great way to discover some new music.
Did you know it takes over 25.000 streams to make 100$ on Spotify? If you feel like supporting this release, please head over to my music and art store and purchase the digital download – or just something else that you fancy.
Songwriter & Vocalist: Inki
Producers: Inki & Mors
Drums: Höskuldur Eiríksson
Mixing: Inki & Mors
Mastering: Addi800
Released in May 2023